Autoresponders | List Management | Newsletter Marketing |
Ad Tracking | RSS to eMail
[linebreak style="30.png"]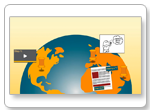 Welcome to Worldresponders.com. Our system handles both plain text and HTML e-mails. Your HTML messages are sent as multi-part messages that include a plain text version along with the HTML version. This means – everyone can read the e-mail you send from your account. Worldresponders.com supports both e-mail or form subscription to activate autoresponders.  All autoresponder e-mails can be personalized with over 100 personalization tags. You can make your forms as complex or as simple as you'd like to.
Unsubscribe links are automatically inserted at the bottom of all outgoing e-mail from system, keeping you compliant with the Can Spam Act. World Responders also includes a variety of features –
Supports Demographic Questions and Custom Questions for subscriber forms (you can then send e-mail based upon the answers given).
Link Tracking, see how many clicks you get on links in your e-mail using the link tracking.
Built in Reminder service.
Automatic Bounce removal.
Easy to configure and use.
Can Spam Compliant.
Supports Confirmed Opt-In and catches IP number of the person that confirms.
Easy to use web based Client Menu … complete with video tutorials.
Autoresponders can be set-up, accessed and modified 24 hours a day.
Complete Subscriber reporting.
Can add or delete prospects manually by cut and paste or CSV upload.
Provides custom HTML code for all your clients sign up forms.
Can set custom landing pages for subscriber confirmation and welcome pages.
Can set the from name and reply-to email address of out going e-mail from autoresponder.
Can schedule mailings, and do a one off mailing (broadcast) to autoresponder list.
Tracks unsubscribes, bounces and pending subscribers.
We offer the some of the most competitive prices in mass email industry! Click here for pricing.